DESCRIPTION
Description
Your Power Outlet
For those who live to go out of bounds, get ready to set new limits with the Subito eGravel. Get that first kick through the washboard up a climb, or extra jump through muddy ruts. Stable ride quality from a longer wheelbase, dropped chainstays, and clearance for 650x47C tires offer you the confidence to take the road less traveled. Just like our endurance models, the handling components have been tuned to offer a precise and predictable riding experience, to carve your way down a descent with confidence, on smooth or rougher roads.
Features
- Ebikemotion X35+ System: features a 36V/250W hub motor installed in the rear wheel, with maximum torque at 40NM and maximum assistance speed of 25km/h. 
- Battery: 250Wh internal battery capacity that gives you approximately 75km of use, depending on the level of assistance, rider drag, and altitude gain. 250Wh range extender can be purchased separately and doubles the possible range
- Integrated Battery and Cable Routing: Clean Design that considers user access and maintenance.
- Clean Integration of the HMI:  The button used for the control of the motor is neatly integrated into the extension of the 3D+ cap.
- Tire size: 700x40C or 650Bx47C
- BB Standard: PF 86 with easy access through the BB access port.
- Wheels: Vision Team 30 Disc included.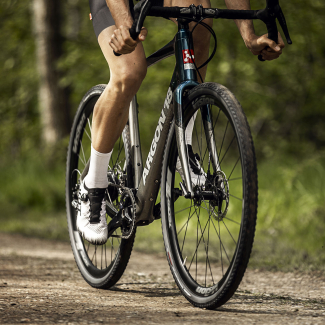 CORE TECHNOLOGIES
Argon Fit System
Argon Fit System is designed to provide riders of all sizes with consistent performance and optimal positioning.
3D+
For our newest generation of bikes, we wanted to push our 3D System even further by merging it seamlessly with the frame.
Topological Compliance System (TCS)
To achieve the optimal balance of comfort and performance for our endurance line, we needed geometry uniquely aligned with the demands of long-distance riding and racing. In conjunction with the best geometry, we also needed to optimise frame topology and carbon layup.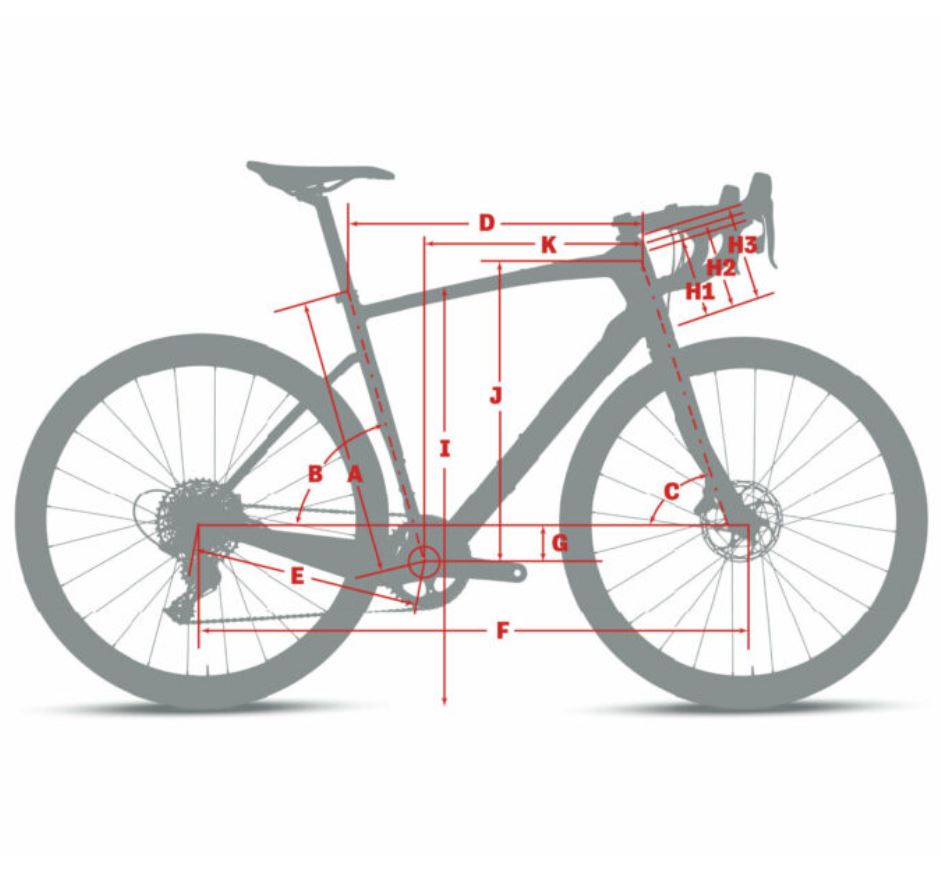 | Geometry | | | XXS | XS | S | M | L | XL |
| --- | --- | --- | --- | --- | --- | --- | --- | --- |
| A | Seat Tube Height | cm | 42.0 | 45.0 | 48.5 | 52.0 | 55.5 | 59.0 |
| B | Seat Tube Angle | cm | 75.5 | 74.9 | 74.3 | 73.7 | 73.1 | 72.5 |
| C | Head Tube Angle | deg | 69.3 | 70.8 | 71.3 | 72.0 | 72.0 | 72.3 |
| D | Top Tube Length | cm | 48.5 | 50.5 | 52.7 | 55.0 | 57.3 | 59.8 |
| E | Chain Stay Length | cm | 42.2 | 42.2 | 42.2 | 42.2 | 42.2 | 42.2 |
| F | Wheelbase | cm | 99.4 | 99.7 | 101.0 | 101.4 | 103.2 | 104.8 |
| G | BB Drop | cm | 7.5 | 7.5 | 7.5 | 7.5 | 7.5 | 7.5 |
| H1 | Head Tube Length 3D (0mm) | cm | 10.8 | 12.4 | 14.5 | 16.3 | 18.8 | 21.5 |
| H2 | Head Tube Length 3D (15mm) | cm | 12.3 | 13.9 | 16.0 | 17.8 | 20.3 | 23.0 |
| H3 | Head Tube Length 3D (25mm) | cm | 13.8 | 15.4 | 17.5 | 19.3 | 21.8 | 24.5 |
| I | Stand Over Height | cm | 68.3 | 71.0 | 74.2 | 77.3 | 80.4 | 83.5 |
| Fit | | | XXS | XS | S | M | L | XL |
| --- | --- | --- | --- | --- | --- | --- | --- | --- |
| J | Stack 3D (0mm) | cm | 52.0 | 54.0 | 56.2 | 58.5 | 60.9 | 63.5 |
| J | Stack 3D (15mm) | cm | 53.4 | 55.5 | 57.6 | 59.9 | 62.3 | 64.9 |
| J | Stack 3D (25mm) | cm | 54.8 | 56.8 | 59.0 | 61.4 | 63.8 | 66.4 |
| K | Reach 3D (0mm) | cm | 35.1 | 36.2 | 37.2 | 38.2 | 39.2 | 40.2 |
| K | Reach 3D (15mm) | cm | 34.6 | 35.7 | 36.7 | 37.7 | 38.7 | 39.7 |
| K | Reach 3D (25mm) | cm | 34.1 | 35.2 | 36.2 | 37.3 | 38.3 | 39.3 |
| | Saddle Height Min | cm | 52.0 | 55.0 | 58.5 | 62.0 | 65.5 | 69.0 |
| | Saddle Height Max | cm | 74.0 | 77.0 | 80.5 | 84.0 | 87.5 | 91.0 |