DESCRIPTION
Description
Classic Track
Meet Argon 18's original track bike. The Electron is the bike of choice for track racers and fixed gear riders. There's no better place to start your pursuit of track gold than the place where Argon 18 started: Twenty-five years of expertise distilled into one powerful bike capable of hurtling you to the next turn in record time. With an aluminum frame and an aerodynamic carbon fork, the Electron is your ticket to victory.
Ideal for
Designed for track sprints, but with the comfort and versatility for long training sessions.
CORE TECHNOLOGIES
Track Geometry
Track bikes are meant to do one thing (very) well: turn maximum power output into results.
Oneness
With its streamlined handlebar and fully integrated stem, Argon 18's Oneness cockpit has a significant impact on the aerodynamic efficiency of our integrated triathlon bikes.
Argon Fit System
Argon Fit System is designed to provide riders of all sizes with consistent performance and optimal positioning.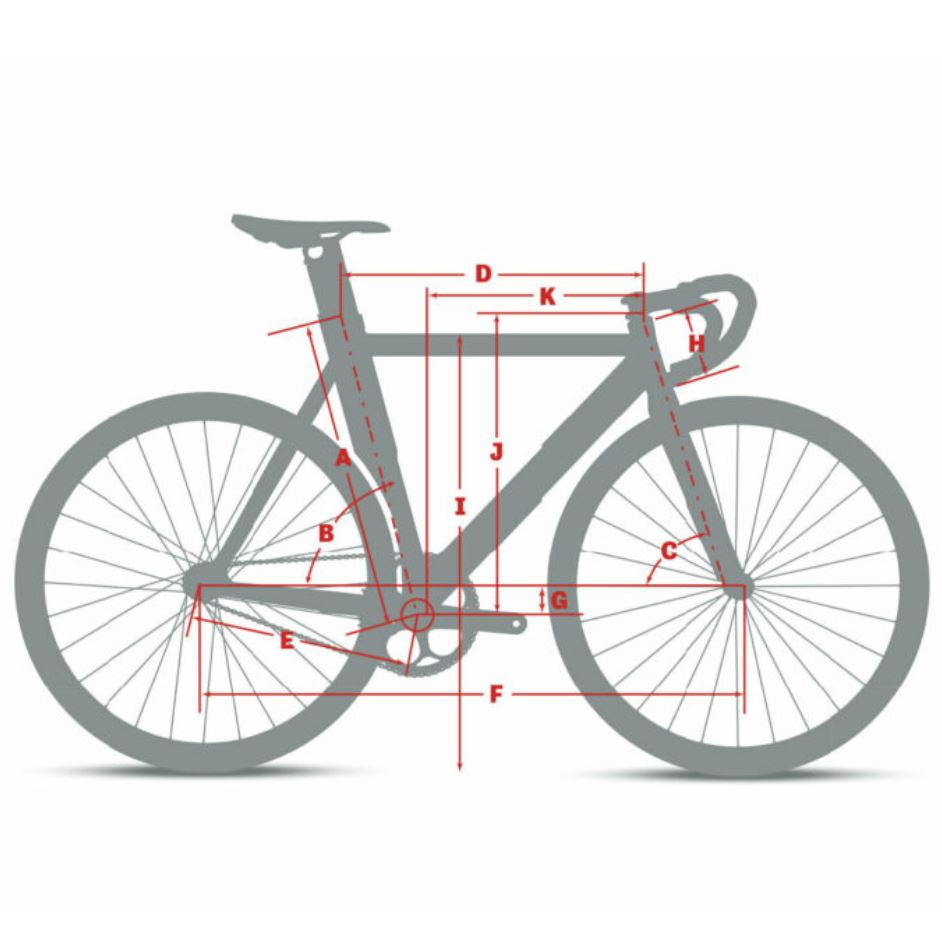 | Geometry | | | XXS | XS | S | M | L | XL |
| --- | --- | --- | --- | --- | --- | --- | --- | --- |
| A | Seat Tube Height | cm | - | 41.0 | 51.0 | 54.0 | 57.0 | - |
| B | Seat Tube Angle | cm | - | 76.5 | 75.0 | 74.5 | 74.5 | - |
| C | Head Tube Angle | deg | - | 74.0 | 74.5 | 74.5 | 74.5 | - |
| D | Top Tube Length | cm | - | 50.5 | 52.5 | 54.0 | 56.0 | - |
| E | Chain Stay Length | cm | - | 37.3 | 37.3 | 37.3 | 37.3 | - |
| F | Wheelbase | cm | - | 92.2 | 92.6 | 93.7 | 95.3 | - |
| G | BB Drop | cm | - | 4.5 | 4.5 | 4.5 | 4.5 | - |
| H1 | Head Tube Length 3D (0mm) | cm | - | 9.1 | 10.0 | 12.5 | 15.0 | - |
| H2 | Head Tube Length 3D (15mm) | cm | - | - | - | - | - | - |
| H3 | Head Tube Length 3D (25mm) | cm | - | - | - | - | - | - |
| I | Stand Over Height | cm | - | 72.3 | 73.3 | 75.7 | 78.1 | - |
| Fit | | | XXS | XS | S | M | L | XL |
| --- | --- | --- | --- | --- | --- | --- | --- | --- |
| J | Stack 3D (0mm) | cm | - | 47.2 | 48.2 | 50.6 | 53.0 | - |
| J | Stack 3D (15mm) | cm | - | - | - | - | - | - |
| J | Stack 3D (25mm) | cm | - | - | - | - | - | - |
| K | Reach 3D (0mm) | cm | - | 39.0 | 39.6 | 40.0 | 40.9 | - |
| K | Reach 3D (15mm) | cm | - | - | - | - | - | - |
| K | Reach 3D (25mm) | cm | - | - | - | - | - | - |
| | Saddle Height Min | cm | - | 51.0 | 61.0 | 64.0 | 67.0 | - |
| | Saddle Height Max | cm | - | 72.0 | 82.0 | 85.0 | 88.0 | - |