Argon 18 supports the fight against cancer along with Brian Holm and Allan Pieper
Argon 18 joins former professional cyclist, and now sports director at Deceuninck Quick-Step, Brian Holm, in a custom bike project to raise money for Brian Holm's cancer charity foundation; La Flamme Rouge, and to support Allan Peiper, and everyone else fighting cancer.
La Flamme Rouge
Since Brian Holm was diagnosed with cancer in 2004, he has been committed to helping other people also affected by cancer. Following his experience with cancer, Holm established the charity organization, La Flamme Rouge, to raise money for charitable organizations supporting cancer patients through sport.
Allan Peiper - rouleur of the highest order
Allan Peiper is a retired Australian professional cyclist, living in Belgium, and current leading sports director at UAE Team Emirates.
In 10 years, from 1983 to 1992, Peiper rode the Tour de France five times, the Giro d'Italia five times, and the Vuelta a España once (11 Grand Tours in total). In his career, Peiper won more than 35 races, including stages at the Tour de France and the Giro d'Italia.
Allan has since 2005 been working as sports director on the World Tour – latest on BMC Racing Team (2013-2018) and now on UAE Team Emirates (2019-present).
"Allan has always been (and is) a role model in cycling. A stylish and tough cyclist who lived his dream and always acted as a gentleman. A rouleur of the highest order who inspired me as a young amateur and made me live my dream. Later we became teammates, sports director colleagues and even though we are like night and day, we have a very close friendship, which I appreciate a lot and is extremely proud of."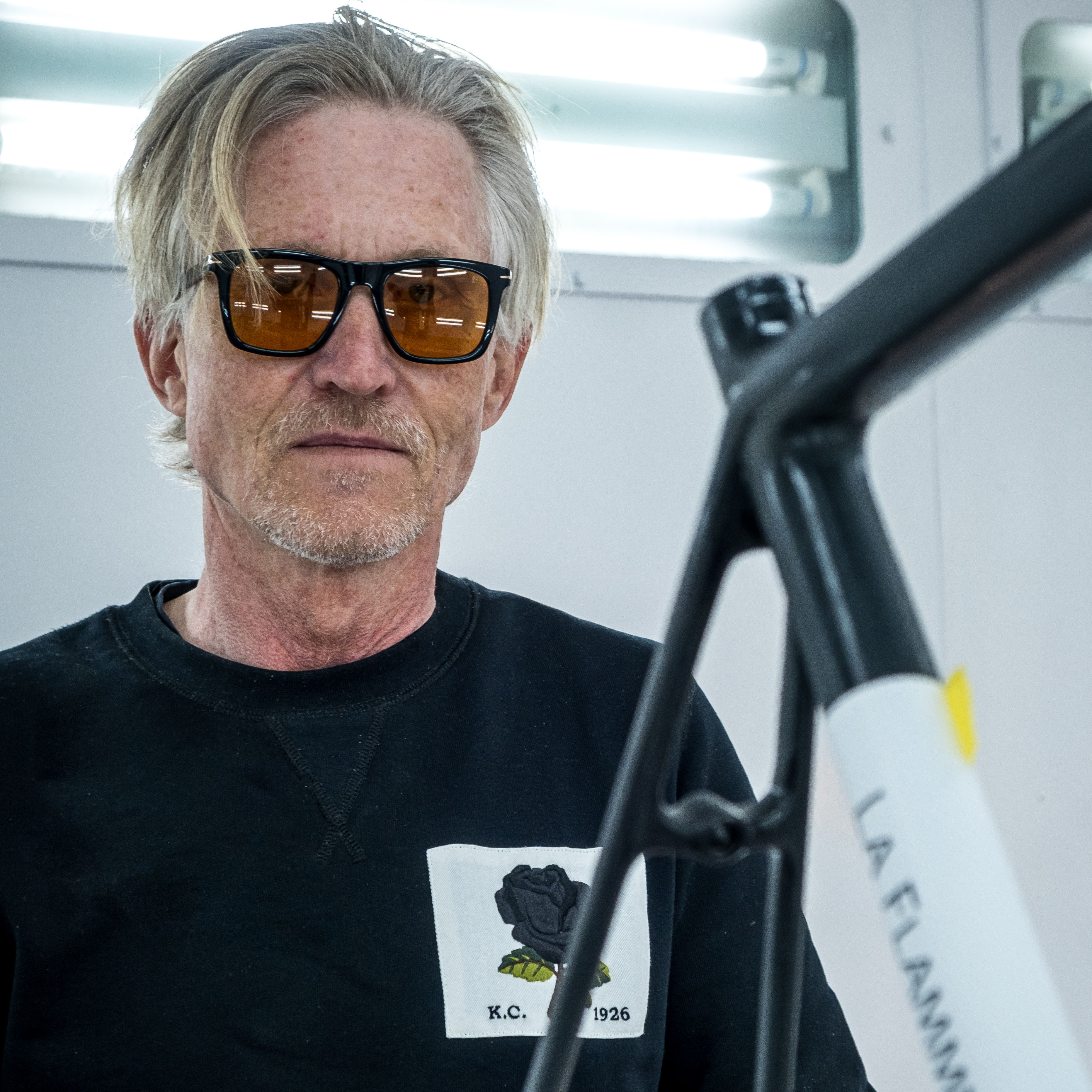 In 2019, Allan Peiper was diagnosed with cancer for the second time in 5 years. The early prognosis was far from positive. The cancer had been detected in his prostate but had spread.
Riders and colleagues – both past and present – have supported Allan in his fight against cancer. A support, that for Peiper has been a huge inspiration and help, when Peiper has been at his lowest. A driver that kept Peiper fighting and fighting.
Custom Painted Argon 18 Gallium on Auction
Now Holm and Argon 18 are joining forces in the support of Peiper, and cancer patients in general, by having an Argon 18 Gallium frame custom painted with Allan's face beautifully placed as a stencil drawing on the head tube, as a galleon figure on an old war ship.
A tribute to the fight that every cancer patient goes through – a fight that can be compared to, when you get to the last kilometre of a bike race – La Flamme Rouge – and sees the red pennant that marks the entrance to the last exhausting stretch. The body is empty, and you really have to dig deep into you power reserves and mind, because it will determine whether you'll win or lose to the cancer. It is the same in the fight against cancer. Except that the last kilometre for cancer patients is extremely long.
"This project of an Argon 18 frame with my photo on the head tube, to raise money for the organization "La Flamme Rouge" is an honour to be a part of. The money raised from the auction of this frame can support people with cancer, through "La Flamme Rouge" in their battle against cancer. To be a part of this project is an acknowledgment of my life in cycling and friendships made therein."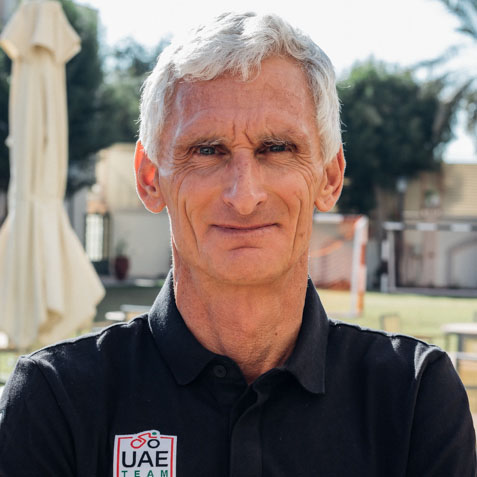 The bike is designed by Argon 18's VP Brand Manager Jacob Ørholm, who is also known in the world of cycling, as the pen behind the Danish cycling team's kit for the 2016 Rio Olympics. The kit was praised by the UCI as the most beautiful kit in the Olympic peloton.
We will leave it up to the cycling world whether this custom-painted bike should receive the same praises. But the most important is that Peiper is proud of the result.
Brian Holm will keep this edition as his own, and then we will have another bike built that will go on auction. The money from the auction will go to La Flamme Rouge and their continued battle against cancer.
More to come …
Photos: Peter Ebro and Allan Peiper